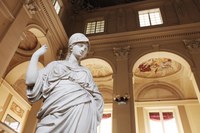 The SDE department was founded in 2012 as a joint experience of the Department of Sociology "Achille Ardigò" and the Department of Business and Economy Legal Disciplines.
This Department moves from a long tradition of sociological, law and economic studies at national and international level.
In this tradition, with a look to the future, the SDE Department plays an important role in the national and international academic debate.